Overview
Updated On:
November 10, 2022
Buy your beachside townhouse in Costabella located 300m from the sea-front and the sand-dunes. A unique end-of-terrace townhouse within the popular development of La Reserva de Alvarito. The property has 3 bedrooms and 2 bathrooms over two floors, open-plan lounge and kitchen with guest W.C. This leads to a winter conservatory with a large sunny L-shape garden of 91m² and a barbeque area. Location Location!
Set moments from one of the best beaches on the Costa del Sol. A dream location for all of the family with easy access to the local schools, supermarkets and commercial centres of Marbella and Puerto Banus. An ideal starter home or an excellent a holiday-rental investment.
Discover more about us. Go to our Customer Reviews.
REGISTER for a viewing today!
• LOCATION LOCATION
• Outdoor swimming pools
• Childrens play park
• Tropical gardens
• 300m to the beach
• Golfing resorts nearby
• Walking distance to shops.
• Great choice of restaurants nearby
• Easy access to Marbella & Puerto Banus
• Investment potential, short-term rentals.
• IBI/Basura 55€ per month.
A golfers paradise with several top golfing resorts only minutes away like Santa Clara Golf Club & Rio Real Golfing Resort. A dream location for all of the family.
By night the beach in Costabella comes alive with families bustling for tables in the busy restaurants. On your doorstep you will find some of the best beach bars and restaurants like El Chiri Marbella for excellent Spanish dishes, live music and chill-out atmosphere. And, Miguel y Maria da Sergio. Further along the beach you can choose from trendy Luuma Beach Restaurant Marbella. Or, try the cocktails in Bono's Beach.
So what are you waiting for? There has never been a better time to buy your home in the sun! Call or Email us today for more information on buying, selling or renting a home in southern Spain. Get Your FREE Buyers Guide!

Look At Our Customer Reviews.
Read What Our Customers Are Saying.
Ian hjälpte oss på ett mycket professionellt vis att köpa vår lägenhet. Vi kan varmt rekommendera Ian som Er partner vid genomförande av ett köp av bostad i Spanien.
Estamos muy contentos porque encontró Ian lo que buscábamos.
After hearing so many horror stories about people buying in Spain we were glad that we found Ian purchasing our new home in Marbella through Ian was a pleasure and his fluency in Spanish was a godsend. He guided us through the process and helped us achieve the best price for the property and the lawyers he recommended were English speaking which again was crucial when sorting out the details.
Ian is still in contact with us and always available to help out or translate certain documents if we need it. We are very happy with our home in Marbella and the service we received from Ian has made it all the more enjoyable.
Thanks again Ian, Regards Chris and Becky Murphy.
My HOME Marbella, an Estate Agency owned and operated by Ian Elsby, successfully arranged the sale of my house in El Rosario, Marbella last year. I could not recommend the service provided more highly. Ian really has the personal touch as well as the professional expertise necessary to close a sale. I am so glad I took the advice of a friend to use his Agency.
Ian was very helpful and showed us the house even on a Sunday. He is always there for you when you need him and he arranges everything you have to for buying a house. He knows the right people and the right way for the paperwork and can inform you. I recommend him to everyone who wants to buy a house in Spain.
Ian was recommended by a friend. When I spoke to Ian I was impressed by how easy he was to deal with. I gave him our requirements and budget and he selected five properties which suited our criteria. My wife and I spent a few days in Marbella and Ian was a great help. He made us feel at ease immediately and spent two days showing us round the homes that he had chosen, which frankly saved us a great deal of time and effort. Ian has a wealth of knowledge of the area. With his help we hope to complete soon. Thanks again, I honestly don't know how we would have managed without his help.
Vendí una vivienda unifamiliar. Agradezco su profesionalidad y seriedad.
Working with Ian to help us find and purchase our perfect flat has been a great pleasure and experience . He has gone above and beyond to help us in all aspects of our purchase. He helped us in finding the property we love, financial institute, attorney, addressing all misc issues, and.... helping us with furnishing the property. Loved working with Ian and highly recommend him to all my friends.
I was selling my place at Los Monteros Palm Beach for 2 years with various agents. I was introduced to Ian who was extremely diligent in finding our purchaser. It took 4 months to sell and what I found fantastic about Ian was his due care to both me the Seller and the Purchaser which is unique in itself. I would highly regard his services.
Ian is awesome. For a foreigner to buy a property in a country who knows very little about is a mission impossible. We bought our Dream condo and it would have never happened without Ian's going far above and beyond his business responsibility. He helped us to find not only the property we love, but to connect us with a great attorney to represent us on all technical and legal issues that we knew nothing about. He also recommended the bank that financed our purchased. On top of that he helped us to receive the brand new home and identify all imperfections to remedy by the builder. If this was not enough he helped us with furnishing the property. Do you know some one else who can do all of these for you? Ian is not our realtor. He is a great friend and family.
Ian came highly recommended via a friend after many unsuccessful viewings to sell with other agents. I can't thank him enough for succeeding to achieve a prompt sale for me during an economic downturn. His large network of collaborators gave maximum exposure which I feel was key to his success. Thanks once again Ian.
I cannot recommend this company enough! They managed to sell my house within months, for a lot more than what I was expecting to get. Ian's professionalism was second to none. He constantly reassured me and was always there to answer any of my questions with honest and true answers. Working with them was a breath of fresh air, I couldn't have asked for a smoother process! They are truly incredible
Property Id : 31253
Price: € 345,000
Property Size: 110.00 m2
Property Lot Size: 145.00 m2
Bedrooms: 3
Bathrooms: 2
Custom ID: MH310
Extra Details: Garden/Terrace 91m². IBI/Basura=653€ annual
Floors No: 2
Other Features
Airconditioning
Alfresco Dining Area
Barbeque
Childrens Play Area
Dishwasher
Energy Certificate
Fitted Wardrobes
Garden Views
Gated Community
Janitors Office
Marble Flooring
Microwave
Near to Beach
Near to Golf
Near to Restaurants
Near to Schools
Near to Shops
Off-Street Parking
Porch
Private Gardens
TV
Washing Machine
WIFI
Your Property Specialist on The Costa del Sol
Similar Listings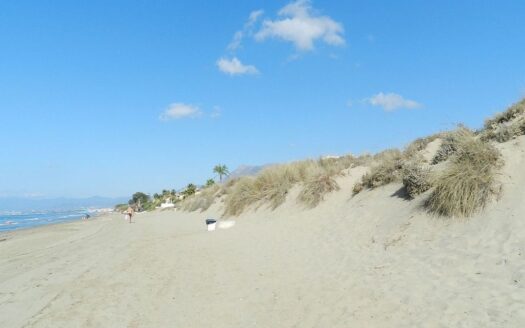 Buy in Dunique Marbella your new home by the sea. A stunning new development by the sand-d
[more]
Buy in Dunique Marbella your new home by the sea. A stunning new development by the sand-dunes on one of Costa del
[more]
Buy your detached house in El Rosario Marbella, the property makes a wonderful family home
[more]
Buy your detached house in El Rosario Marbella, the property makes a wonderful family home set in a tranquil corner
[more]
Buy your townhouse on Bono Beach Marbella located only 250m from the sea-front. A mid-terr
[more]
Buy your townhouse on Bono Beach Marbella located only 250m from the sea-front. A mid-terrace property overlooking
[more]